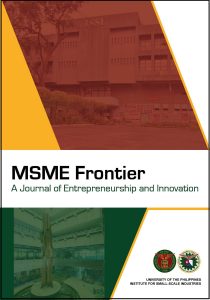 The MSME Frontier publishes peer-reviewed research papers on business and entrepreneurship, particularly on Micro, Small and Medium Enterprises (MSMEs).
It attracts submissions from practitioners, policy makers, and academics. It seeks to improve the industry's processes, strategies, and outcomes by focusing on practical and theoretical studies. In addition, it aims to aid the government in advancing its economic policy and legislation. The MSME Frontier particularly features and considers the dynamics (prospects, challenges, problems and possible solutions) of entrepreneurship and innovation in developing countries.
The MSME Frontier is published by the University of the Philippines- Institute for Small Scale Industries (UP-ISSI). The publication is supported by the Small Enterprises Research and Development Foundation (SERDEF), a foundation that assists in the promotion and development of entrepreneurship and small and medium enterprises in the country.