CALL FOR PAPERS
MSME and Nation-building
The number of micro, small, and medium enterprises (MSMEs) compose 99% of the local businesses in the Philippines. It has also been considered as the country's economic thrust for inclusive growth and is included among the priority areas of ASEAN's policy focus and resources. Despite the numbers and policy agenda, the Philippines continues to lag behind on its rank in the World Bank's "Ease of Doing Business." MSMEs face big challenges in terms of finance, technological upgrading, and heavy market competition. Given the current undertakings and advocacies of the government and international organizations, such as ASEAN, it is imperative that the current MSMEs status, prospects, and challenges, including the existing mechanisms be reviewed and studied.
In carrying out its mandate of assisting the small and medium-scale industries in the country, the University of the Philippines- Institute for Small-Scale Industries (UP-ISSI) is pleased to invite you to submit abstracts for the ISSI's 1st MSME Conference with the theme "MSME and Nation-building." The conference will bring practitioners, policy makers, and academics (graduate students/post graduate students/research fellows) to gather to discuss and share their ongoing research, case studies, policy papers, and scholarly works on/related to Micro, Small and Medium Enterprises. The conference welcomes panel proposals and individual papers. Selected papers from the conference will be considered for publication in MSME Frontier: A Journal of Innovation and Entrepreneurship.
Topics include, but not limited to the following: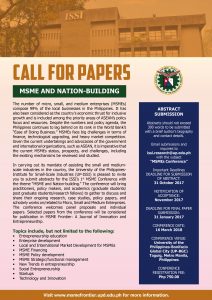 * Entrepreneurship education
* Enterprise development
* Local and International Market Development for MSMEs
* MSME Financing
* MSME Policy development
* MSME Strategic/functional management
* New Trends in entrepreneurship
* Social Entrepreneurship
* Startups
* Technology and Innovation
Abstract Submission
Abstracts should not exceed 300 words to be submitted with a brief author's biography and contact details.
Email submissions and inquiries to 

issi(dot)research@up.edu.ph

 (

issi.research@up.edu.ph

) with the subject "MSMEs Conference"
Important Deadlines

Deadline for submission of abstract:       31 October 2017
Notification of Acceptance:                          November 2017
Deadline for Final Paper Submission:      31 January 2017*
Conference Date:                                                  16 March 2018
Conference Venue:                   University of the Philippines-Bonifacio Global City (UP-BGC), Taguig, Metro Manila, Philippines
*Best Conference Paper Award –All conference papers submitted are eligible for the award. The best paper will be selected and reviewed by a committee designated by the conference chair and will be endorsed for publication in one of the issues of the MSME Frontier.
The entire manuscript should be at least 4,000 but not more than 10,000 words (including notes and references).
Conference Registration for Presenters and Participants
Registration fee – Php 750.00
Registration includes the following:
Conference Kit
AM/PM Snacks
Lunch
Details on how to register will be posted soon.
Partner and Sponsor with us in this conference. Download and read the details here.

Elvira A. Zamora, D.B.A.
Conference Chair
Vice-President for Development, UP
Editor-In-Chief, MSME Frontier